Sohrab Pournazeri
Born 1982, Kermanshah, Iran.
Sohrab Pournazeri, virtuoso of the Tanbour and the Kamancheh, is a sensational phenomenon of modern Iranian music.
He is a singer and instrumentalist whose music has surpassed the borders of Iran, fusing with cultures and artists as far and wide as China and the United States.
His talent and courage have been acknowledged as extraordinary by no less than Mohammad Reza Shajarian, the great master of Iranian music.
Sohrab was born in 1982 to the musical family of Pournazeris. His father Kaykhosro Pournazeri is one of Iran's most influential musicologists, and his brother Tahmoures has engendered a new movement in Iranian music through his performances and compositions.
Music was Sohrab's mother tongue; he learned it as other children learn to speak. At the age of two, he would play his father's Tanbour (whose body was larger than his) and sing the poetry of Rumi and Hafez. At 13, he was introduced to the stage as part of the Shams Ensemble, and today he is considered one of the core members of the group.
Also starting at age 13, Sohrab studied the techniques of the Kamancheh with Ardeshir Kamkar, and, because of his musical talent, was able to begin playing as a soloist with the Shams Ensemble after two years.
Sohrab has followed in the footsteps of his musical family, yet has achieved distinct and idiosyncratic techniques that have rendered his method of playing into something entirely unprecedented. He also pursues vocalizing and composing with the same unique approach, and has been able to steer the distinct Pournazeri musical form (with its emphasis on passion, emotion, and inventiveness) towards new horizons.
In the summer of 2017, Sohrab performed the 'C Project' for the first time alongside Homayoun Shajarian in Tehran's historical Saadabad Palace Complex, a project he created with the aim of reviving the "wisdom" and old traditions of the Shahnameh ('The Book of Kings') for the young generation and familiarizing the audience with the roots of ancient Iranian culture and literature. In this project, Iranian musicians work alongside actors, artists, a film crew, and lighting and sound experts in order to create a unique multifaceted experience for the audience.
Sohrab is also well versed in the regional music of his native Iran, as well as western classical music, and holds a degree in Music Performance. As a soloist and vocalist, Sohrab has collaborated with artists and ensembles worldwide – including Mr. Shajarian, Shujaat Hussain Khan, the Beyond Borders Project, and the Pacific Symphony Orchestra.
Sohrab Pournazeri and Homayoun Sakhi Dynamic duo
Théâtre des Abbesses was filled for this unprecedented meeting between two cracks of improvisation.
"Irane Man" (My Iran) U.S. Tour
Homayoun Shajarian & Sohrab Pournazeri visited America with the "Irane Man" (My Iran) Tour.
There was a mix of classical Persian and Western music arranged and composed by Sohrab and Tahmores Pournazeri.
"Irane Man" (My Iran) Canada Tour
Homayoun Shajarian and Pournazeri brothers visited Canada with the "Iran Man" Tour performing a mix of classical Persian and Western music, arranged and composed by Tahmoures and Sohrab Pournazeri.
Konya Mystic Music Festival
Accompanied by Shams ensemble and Pournazeri brothers, Shajarian staged the concert in the 15th Konya Mystic Music Festival and performed tracks composed by Kaykhosro Pournazeri.
Istanbul International Folk Music Festival
At this concert Shajarian was accompanied by Tahmoures and Sohrab Pournazeri whose creativity and inventiveness have marked them as distinguished artists of their generation.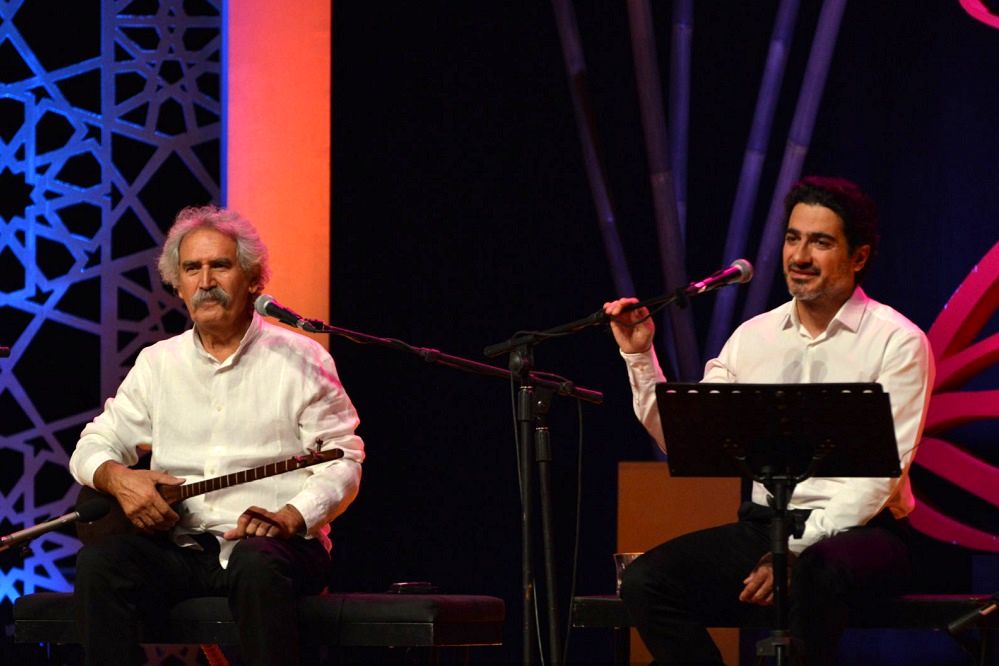 Get updates from this and more artists
We will process the personal data you have supplied in accordance with our privacy policy.